2022
MARCH
  DSE數學科網上義教平台 提供基礎數學輔導 <網上報名>
「星島網」- 本年度香港中學文憑考試即將展開,香港中文大學將於下周起啟動「香港中文大學抗疫數學科DSE網上義教平台」,為應屆考生提供數學科輔導。該平台由創新科技署與中大工程學院創新科技中心一同成立的創新科技學生會策劃,「創新及科技基金」撥款資助,ECA Education(ECA)贊助,並由香港電腦教育學會及香港IT義工聯盟協辦。<詳情請按此>

「東網」- 新冠肺炎疫情之下,莘莘學子學業路難,一眾中學文憑試(DSE)考生更見艱辛。本年度DSE即將開考,為協助今屆考生應考,香港中文大學將於下周起,啟動「香港中文大學抗疫數學科DSE網上義教平台」,為應屆考生提供網上課程支援及基礎數學輔導。計劃分為網上授課和課後輔導兩部分,截止報名日期為下周三(3月9日)。<詳情請按此>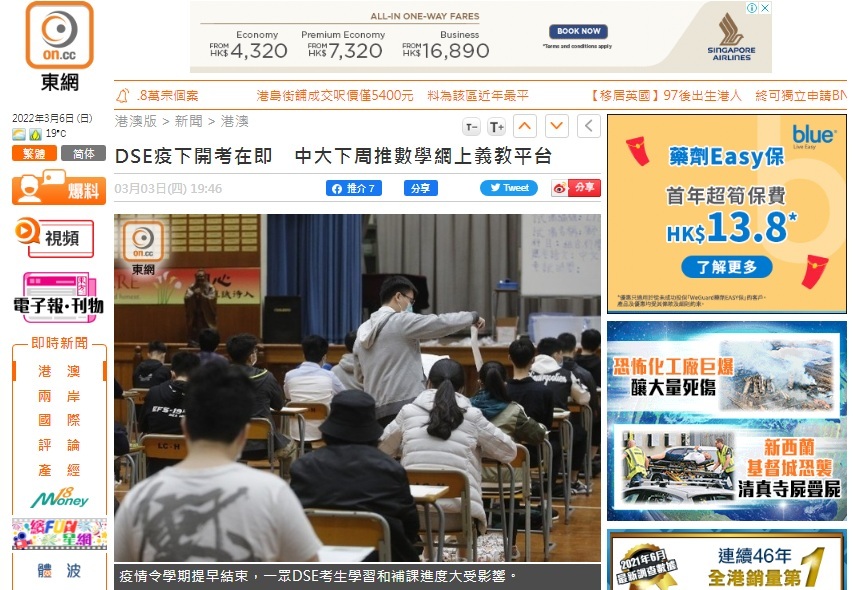 「AM730」 – 疫情下DSE文憑試生面對困難重重,中大下周啟動「香港中文大學抗疫數學科DSE網上義教平台」,為應屆考生提供數學科輔導,平台教程設計特別針對數學試甲部題目,協助學生釐清數學概念及掌握答題技巧,希望幫助數學根基較弱的學生取得合格成績,能夠以輕鬆心情應對考試,並達到升讀大學的要求。<詳情請按此>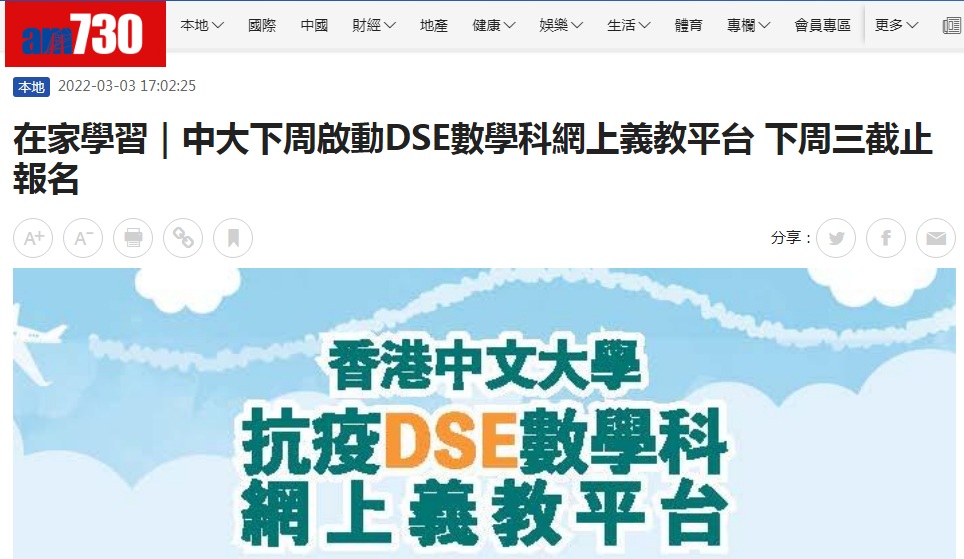 「頭條日報」- 本年度香港中學文憑考試即將展開,香港中文大學將於下周起啟動「香港中文大學抗疫數學科DSE網上義教平台」,為應屆考生提供數學科輔導。平台旨在為考生提供網上課程支援及基礎數學輔導,希望幫助數學根基較弱的學生取得合格成績,從而達到升讀大學的要求。<詳情請按此>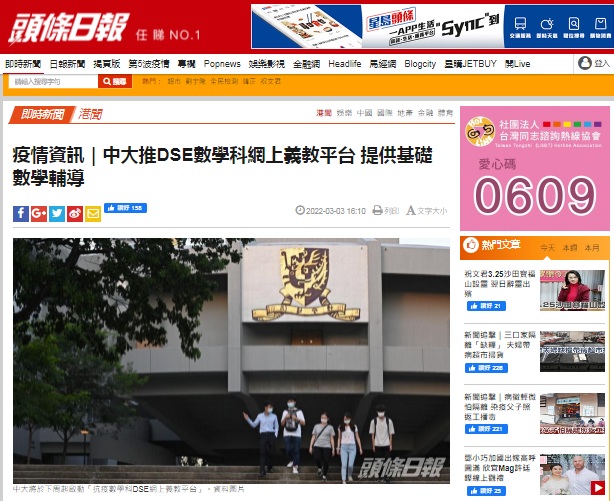 「HKET TOPick」 – 2022年中學文憑考試(DSE)預計於4月22日開始,惟受疫情影響學校停止面授課,應屆考生備戰或受影響。香港中文大學今日(3日)宣布,將於下周起啟動「香港中文大學抗疫數學科DSE網上義教平台」,為應屆考生提供數學科輔導,針對甲部題目,希望助考生釐清數學概念及掌握答題技巧。<詳情請按此>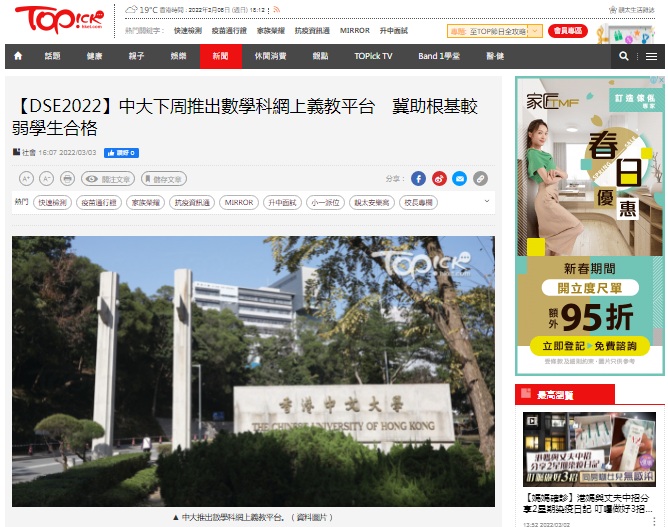 「巴士的報」- 中大下周啟動網上義教平台 提供基礎數學輔導課。課程分設網上授課及課後輔導兩部分。網上授課環節由ECA安排,而中大設課後輔導團隊,為學生提供個別輔導,幫助學生全面掌握課堂內容。 <詳情請按此>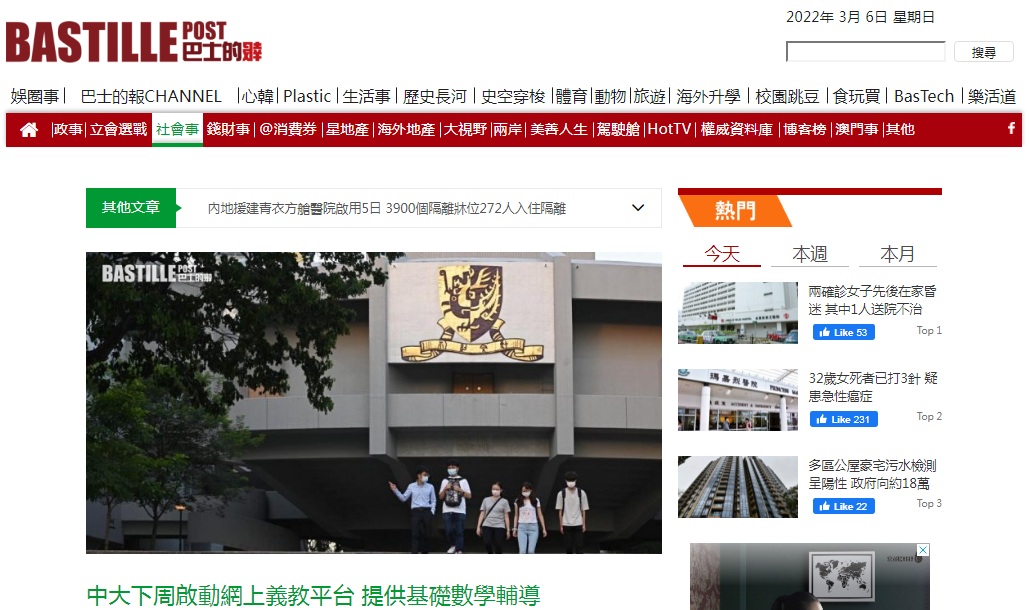 「大公文匯全媒體報道」- 本年度香港中學文憑考試即將於4月22日展開,香港中文大學今日(3日)宣布將於下周起啟動「香港中文大學抗疫數學科DSE網上義教平台」,為應屆考生提供數學科輔導。 <詳情請按此>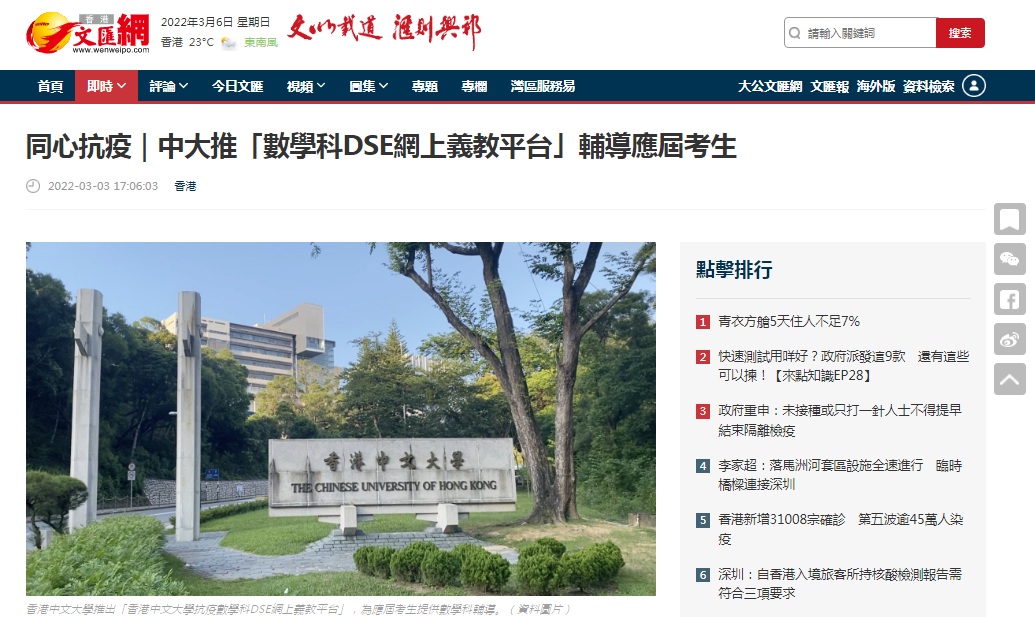 「Innovation and Technology Student Club」- 因應疫情下學生留校學習時間減少,由香港中文大學創新科技學生會主辦,ECA Education贊助,香港電腦教育學會及香港科創義工聯盟協辦的「香港中文大學抗疫數學科DSE網上義教平台」正式啟動,為應屆數學科考生提供補底網上課程,費用全免,歡迎有需要的學生報名參加。<詳情請按此>

「教城電子報」- 本課程旨在為DSE學生提供基礎數學輔導,特別針對DSE數學試甲部,助學生釐清數學概念,掌握答題技巧,輕鬆應對考試。課程亦期望有助同學跟上學校數學學習的步伐,增強學生對數學的信心,爭取在DSE取得令自己滿意的成績。<詳情請按此>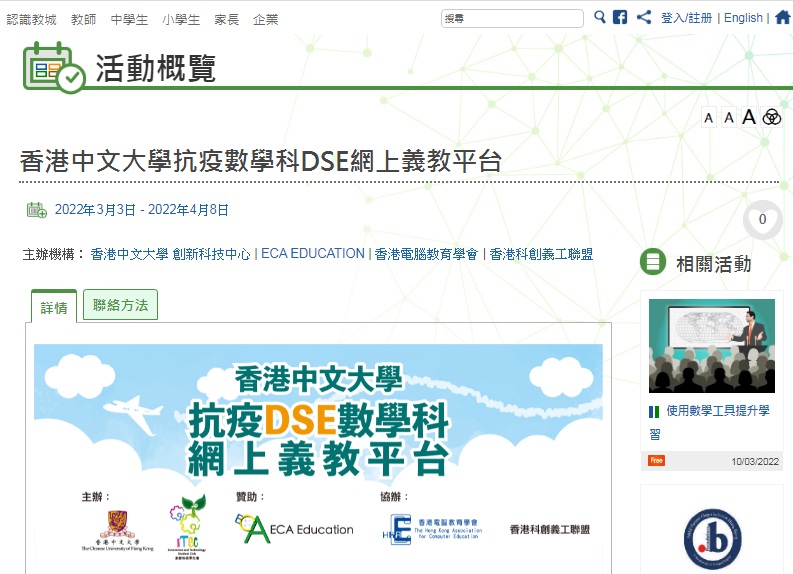 2018
JUNE
  Lincoln Minster School 2+3 HK Programme
We are thrilled to announce the launch of Lincoln Minster School 2+3 HK Programme. ECA Education has cooperated with Lincoln Minster School in UK to provide their "2+3 Programme", allowing our students to study in University of Lincoln once they finish the 2-year-programme in Hong Kong. Call us at 2147-3728 for more details!

JANUARY
  New Royal Ascot office
New Year, New Location! We acquired a new centre in Royal Ascort Shopping Centre , near the Fotan MTR station. In addition to our current curriculum for local secondary school and international school students, we also provide special courses for Selin Method curriculum in this centre.  
2017
AUGUST
  New Shek Mun office
We have moved our Chun Shek centre to Shek Mun! Our new centre in Shek Mun is located in Kings Wing Plaza 2, a Grade A office building. It is not only 3 times larger than our old office but also more convenient – just next to Shek Mun MTR Exit C.
JANUARY
  New Yau Ma Tei office
New year, new office location! Our new centre in Yau Ma Tei – which is just opposite our old office – is 50% larger than the previous one. It is also more convenient for students to visit, being just next to Yau Ma Tei MTR Exit B1.
2007 - 2016
FEBRUARY 2015
ECA Education has just opened a new Chun Shek Centre, which is just a 2-minute walk from Che Kung Temple MTR Station. Now students living in the Ma On Shan Line and East Rail Line can easily travel to and from ECA.
JANUARY 2014 
ECA has just expanded to the 11/F of Nathan Tower to provide more space for our tuition classes.
SEPTEMBER 2013 
Good news! ECA now provides tuition classes for STEP (Sixth Term Examination Paper for the University of Cambridge) and MAT (Mathematics Aptitude Test for the University of Oxford).
JANUARY
2012 
Our centre has expanded to Room 3F in Nathan Tower to so we can provide our tuition services to more students.
DECEMBER
2010  
ECA Education has been certified as a Trinity Exam Training Centre. Please contact our staff for more information about our Trinity GESE courses.
SEPTEMBER
2010  
We have enlarged our Sha Tin Centre to not just one, but two shops! Apart from the F04 shop, we are now providing tuition classes in the F05 shop in Sui Wo as well.
DECEMBER 
2009  
ECA is getting bigger: we have just opened a new center in Yau Ma Tei! Please visit our website or call us for more information about the courses we offer.
SEPTEMBER
2007  
ECA Education hast just opened our first tuition centre in Sha Tin!